A sizeable population living in Fiji islands have their origin in Bihar and Uttar Pradesh. Tambura Bhajans are very important to people of Fiji and reflect our cultural heritage. These Tambura Bhajans of Fiji, given on this site, have been collected by Bhajan singer Mr Jawahar Lal of Fiji.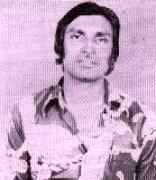 Shri Krishna Chand 'Dhunki'
Disclaimer!
The music of Bihar and Jharkhand collected from various sources and given on this site are meant to popularize it and to create an awareness about the cultural heritage of Bihar and Jharkhand. It is not meant for any commercial purpose. Any copyright violation may be brought to our notice for necessary action.
Contact:
webmaster@biharandjharkhand.com